Vote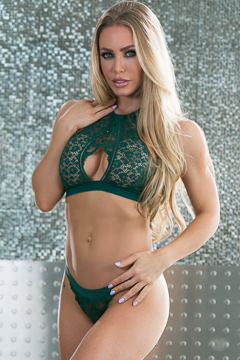 Videos with Nicole Aniston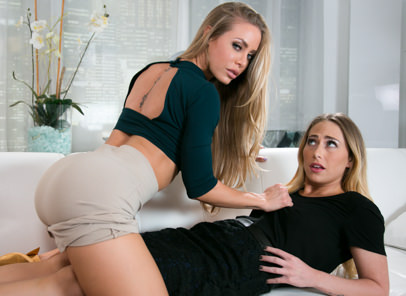 Date added:
2018-02-26
Rating:
Comments:
24
Description :
Nicole Aniston has no idea what's going on. Her receptionist is not who she thought she was. The serum that Carter took has now worn off and she's back to her old self again. She states her mission and how she now has the proof to shut her down once and for all. Nicole is a businesswoman and isn't willing to lose everything she worked so hard for. She knows everyone has a price and is willing to pay anything to get herself out of this mess. She offers Carter a deal: she'll pay her triple what she's getting for this gig. Carter is intrigued by the offer, but tells Nicole that that might work but she wants something more. She asks her if she's into blondes. When Nicole gets the message they agree to triple pay and a session. They go back into the office and Carter rips her clothes off and pounces on Nicole. They just fucked but Carter had to watch herself and not blow her cover. Now she's completely uninhibited and free to fuck freely. She takes off Nicole top and starts licking her tits. When the girls finish off their business, Nicole remarks how happy she is that they could come to an agreement. Carter is having second thoughts. She tells Nicole she thinks that maybe she'll just keep the hard drive. She's not really down with the idea of Nicole's company colluding with North Korea. Nicole is confused - they just fucked and she thought they had a deal. Carter smiles diabolically. Looks like it's the end for Aniston enterprises.
Categories :
Blonde
,
Piercings
,
Big Tits
,
Girl on Girl
,
Member Fantasy
,
Hardcore
,
Natural Tits
,
Rim Job
,
Fingering
,
69
,
Pussy Licking
,
Facesitting
,
Tribbing
,
Lesbian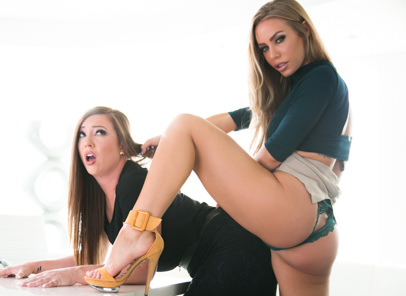 Date added:
2018-02-12
Rating:
Comments:
26
Description :
Agent 069 (Carter Cruise) has been selected to work on an important assignment. She's been instructed to infiltrate Aniston enterprises, which have been suspected of working with North Korea. Her mission: to enter the premises, sedate the receptionist (Maddy O'Reilly), and use a new technology to extract her DNA and temporally assume her identity. Having 60 minutes before she shapeshifts back to her former self, Carter needs to extract the files before her time is up. After sedating Maddy, she wastes no time storming the office and looking for the file. When the CEO, Nicole Aniston, comes back from her workout, she surprised to find her employee - Maddy, who is really Carter - rummaging through her office. When Carter makes up an excuse about a canceled afternoon appointment, Nicole reminds her that her back is sore and she wants her massage. Knowing that she needs to play this right, Carter does what she's told as she bides her time trying to figure out how to get out of here. When Nicole complains about upper body soreness, Carter isn't sure what she's getting at... but when Nicole grabs Carter's hands and puts them on her tits, Carter gets the message loud and clear. Carter realizes pretty quickly that she needs to get this over with but can't be too obvious as to not blow her cover. She complies with all of her boss' demands and gets it on with her. When they finally finish she's got about 3 minutes to go. When Nicole comes out of the office with the briefcase, Carter asks if she needs to volunteers to take it off her hands. Nicole declines but Carter insists, stating that she wants to help her. She pulls it out of Nicole's hands just before her times runs out but Nicole knows something is amiss. Will Carter get out of this mess? Will she escape without being found out? Can she extract the briefcase containing the secret file without blowing her cover? Find out in part 2!
Categories :
Blonde
,
Redhead
,
Big Tits
,
Girl on Girl
,
Member Fantasy
,
Hardcore
,
Natural Tits
,
Rim Job
,
Fingering
,
Pussy Licking
,
Lesbian
,
Model Debut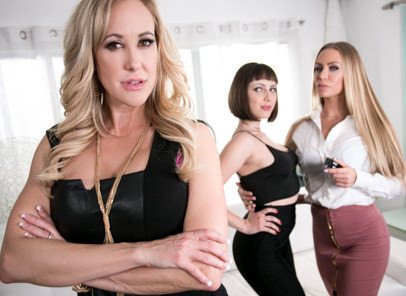 Date added:
2018-02-08
Rating:
Comments:
37
Description :
Jenna Sativa is in Brandi Love's office at the behest of her boss, Nicole Aniston. She's always been nervous around powerful women and today is no exception. Brandi exudes power and doesn't have time for anyone's shit. Jenna can't stop talking out of sheer nervousness but when Brandi offers her a job at her company she's rendered speechless. Brandi tells her that she's going to be at her beck and call and that's it's best to accept her fate. Jenna nods agreeing to these terms. When Brandi shoves her tongue down her throat, she can't help but want to be dominated. Brandi expects her to be a good subordinate and satiate her every desire so when she rips Jenna's clothes off. Jenna gets turned on immediately. When Brandi's done with her she sends her back to her boss with a message: starting Monday she'll be working exclusively for Brandi. Nicole walks into Brandi's office to confront her. When Brandi tells her it's just business and that she simply needs a new assistant Nicole isn't going down without a fight. She pulls out a recorder that Jenna had on her and threatens to take Brandi to court. With no options left, Brandi asks her what she wants. Nicole is keeping her assistant and wants the designs she hired Brandi to oversee completed by the allotted time. She also wants Brandi but on her terms. Eat her pussy and the recording goes away. Brandi knows a bargain when she sees one and complies with her demands. Brandi might not like to be dominated but she certainly loves eating pussy.
Categories :
Blonde
,
Big Tits
,
Girl on Girl
,
Rim Job
,
Fingering
,
MILF & Mature
,
69
,
Pussy Licking
,
Tribbing
,
Ass
,
Lesbian
Pictures with Nicole Aniston