Vote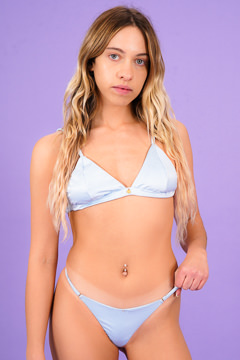 Videos with Khloe Kapri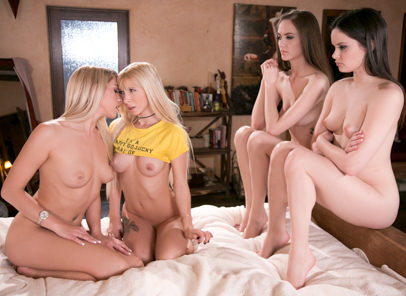 Date added:
2018-03-29
Rating:
Comments:
38
Description :
Samantha Hayes and Khloe Kapri are sitting on a bed wondering what to do with the rest of their afternoon. Khloe has an idea but it's a little naughty. When Jenna asks what it is, Khloe responds that perhaps they could have a little fun with some sensory deprivation. She'll blindfold her, cover her ears so she can't hear and play with her. In the adjacent room, Jenna J Ross asks Kenzie Reeves when her parents are coming back, Kenzie replies that they'll have the whole weekend to do whatever they want to each other. Kenzie has a naughty idea. Surprisingly, it's the same as her stepsister's across the hall. Jenna loves Kenzie's sense of adventure and agrees. Unbeknownst to both their girlfriend, the stepsisters have planned this all along; the big switcheroo! Khloe and Kenzie are gonna swap girls friends and since both girls are blindfolded they'll never find out. When Khloe shows up to Kenzie's room, she tells her that if Samantha finds out about their plan, she's dead meat. Kenzie assures her there's no way they'll find out. When Khloe shoves her nipple pierced breast in Jenna 's mouth, she realizes her girlfriend doesn't have jewelry there. Jenna rips off her blindfold to find Khloe on the bed. When she figures out what the sisters are up to, Jenna grabs Khloe's ear and drags her to the other bedroom to find her girlfriend eating out Samantha. Khloe can't stop apologizing but Jenna doesn't want to hear her apologies, she wants Khloe to make it up to her by eating her pussy. Once Jenna cums, she storms into the room and hits the bed hard to let the girls know she's there. Samantha rips her blindfold off to find Kenzie next to her and Khloe looking guilty as hell. When Jenna explains what the sisters planned for them Samantha can't believe that Khloe would do that to her. Jenna has an idea, if the girls want to make it right, they're going to have to dyke it out with each other. Since the stepsisters have fooled around before, they don't have a problem with this resolution. As the girlfriends look on, they end up getting so turned on and join in on the fun and after all, if Khloe and Kenzie wanted to have a foursome all they had to do was ask.
Categories :
Blonde
,
Brunette
,
Piercings
,
Girl on Girl
,
Member Fantasy
,
Natural Tits
,
Rim Job
,
Fingering
,
69
,
Pussy Licking
,
Facesitting
,
Family Roleplay
,
Tribbing
,
Step Sister
,
Ass
,
Lesbian
,
Vignettes
Date added:
2018-03-23
Rating:
Comments:
14
Description :
Kenna James is on her bed reading a book. When her step-sister, Khloe Kapri, walks into her room, it seems there's something off. Khloe sits down on the bed and tells her that they need to talk. Concerned, Kenna puts down her book and asks her what's up. Khloe tells her that she's seen the messages between Kenna and her boyfriend. Kenna assures her that it was just for fun: she would never actually do anything with him. Khloe tells her it's not that...Kenna insists that the boyfriend really loves Khloe and that's all that matters, but Khloe isn't so sure...

Khloe feels deceived but, most of all, she feels confused: she's not even into girls, but she fell in love with Kenna's words. Kenna is surprised. She tells Khloe that a little experimentation is healthy, to some degree. But Khloe wants to experiment with her step-sister. Kenna doesn't know what to say and is completely weirded out.

Khloe tells her that she could at least kiss her since she played a part in her feeling misled. When Kenna tells her that this is a bad idea, Khloe is already making her move. She plants her lips on Kenna's and shoves her tongue in her mouth. Khloe knows Kenna couldn't have written all those things if she weren't super horny. Kenna can no longer deny it. She wants her sister as bad as her sister wants her.
Categories :
Blonde
,
Girl on Girl
,
Member Fantasy
,
Natural Tits
,
Small Tits
,
Rim Job
,
Fingering
,
Teen
,
College
,
Pussy Licking
,
Petite
,
Facesitting
,
Family Roleplay
,
Tribbing
,
Step Sister
,
Lesbian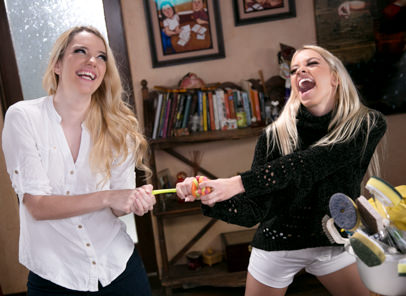 Date added:
2018-02-01
Rating:
Comments:
24
Description :
Kenna James and Khloe Kapri have a job to do. Khloe wants to quit, stay home and spend the day fucking Kenna. The idea sounds tempting but the girls have bills to pay and they have no choice. Kenna stops kissing her and tells her they can continue this later. Disappointed, Khloe gathers their things to leave. At the client's house, the girls start in the bedroom. Kenna states that they have to do some laundry but Khloe can't get her mind out of the gutter. She points out that the sheets aren't even dirty and that there's no point in cleaning them if they haven't been slept in. Kenna reminds her that's it's on the to-do list and that they have to clean them. Khloe pushes Kenna onto the bed stating that if they're going to wash these sheets they may as well use them first. Kenna giggles telling her that this is not a good idea but Khloe doesn't care. She wants to finish what they started in the house and won't take no for an answer. She jumps on Kenna and starts ripping her clothes off. Kenna is worried that the owners might walk in at any moment but instead of stopping, Khloe she gets even more turned on, ripping Kenna's pants off in the process. Despite the risk of getting fired Khloe is ready to risk it all - she hates this job and would much rather be spending her time eating Kenna's pussy!
Pictures with Khloe Kapri