Videos with Alex Grey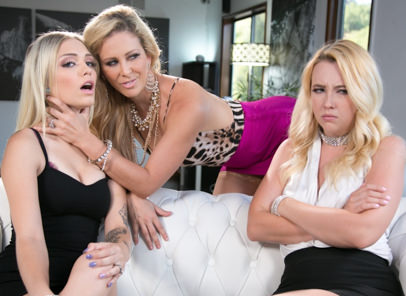 Date added:
2017-10-17
Rating:
Comments:
27
Description :
Mob boss wife Cherie DeVille gets the news that her husband Biggie's in jail. She comes to the conclusion that she's in charge now. Cherie's stepdaughter Samantha Rone hears the news and informs her wife Alex Grey that her stepmother is planning to take over the business, Samantha's rightful inheritance. Alex and Samantha agree to a meeting with Cherie. Samantha is confident her coke trade will secure her position at the helm.

During the meeting Samantha stakes her claim. Cherie warns the girls not to fuck with Italians. Samantha changes her tune and becomes more respectful. Cherie walks over to Alex and kisses her passionately. She wants Samantha to see how it feels when other people touch her property. She doesn't there. She hikes up her skirt and fingers her on the sofa.

Cherie plunges into her pussy until Alex collapses in a heap spent from cumming. Cherie keeps going, spreading her legs wide for Alex to lick her cunt. Cherie French kisses her stepdaughter as they both finger Alex together. Cherie proves herself the true leader of the mob, grinding Samantha's tongue while licking and fingering Alex's ass and pussy. Cherie orchestrates a wet and wild threesome on the couch, switching up their configuration every time they cum. Cherie even  makes her mob stepdaughter squirt till her pussy runs dry!
Categories :
Blonde
,
Big Tits
,
Girl on Girl
,
Member Fantasy
,
Hardcore
,
Threesome
,
Natural Tits
,
Rim Job
,
Fingering
,
MILF & Mature
,
Tattoos
,
Pussy Licking
,
Facesitting
,
Step Mom
,
Family Roleplay
,
Tribbing
,
Lesbian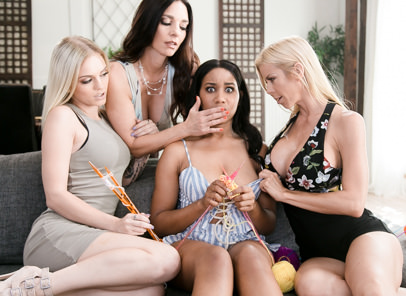 Date added:
2017-09-09
Rating:
Comments:
38
Description :
Stepmother Mindi Mink gets a call from her teen stepdaughter Jenna Foxx who is away at college. Since Jenna will finally be home next week, Mindi wants her to come to her knitting club meeting. They call themselves The Daisy Chain. At first Jenna complains that she wants to see her friends but Mindi puts her foot down.

When Jenna and Mindi get to the meeting, she meets the other members of the club, MILF Alexis Fawx and her teen stepdaughter Alex Grey. The stepmother-stepdaughter duo seem normal at first, until they start kissing inappropriately. When Alex takes off her dress to knit in her underwear, Jenna questions their behavior. Mindi tells her it's normal and not to make a scene. But then Alexis gets undressed too.

When Jenna raises a stink, topless and braless Alexis brings her over to their sofa and tries to pull down the straps of her dress. Alexis simply wants to know if she's homophobic. Jenna says she's had her lesbian experience with a girl in college. She barely notices that Mindi has gotten undressed, and that she is making out with Alex.

Alexis convinces Jenna to lay back and let her suck on her pussy. Meanwhile Mindi is licking Alex's shaved pussy. Then the lesbians form a daisy chain as one licks out the other. Alex eats Mindi who licks Alexis who munches on Jenna. The MILFs play with each other and watch the teens fuck. Jenna's ebony skin looks so pretty against Alex's creamy complexion. The couples form another daisy chain and all of them cum in tandem.

Everyone encircles Jenna to give her pussy special attention. Stepmother Mindi makes Jenna cum hard in her mouth. Then the ladies all worship Mindy. Jenna slowly sucks on her MILF nipples and makes her way down to her mom's swollen clit. She licks her pussy till she explodes!
Categories :
Blonde
,
Brunette
,
Big Tits
,
Girl on Girl
,
Member Fantasy
,
Natural Tits
,
Fingering
,
MILF & Mature
,
Tattoos
,
Older / Younger
,
Pussy Licking
,
Step Mom
,
Family Roleplay
,
Ebony
,
Interracial
,
Ass
,
Lesbian
,
Orgy
Pictures with Alex Grey
Date added:
2017-10-17
Rating:
Comments:
0
Date added:
2017-09-09
Rating:
Comments:
0
Date added:
2017-09-09
Rating:
Comments:
0