Vote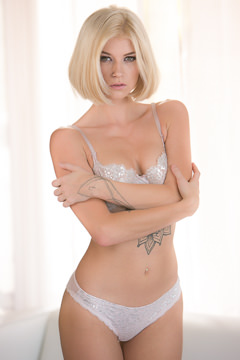 Videos with Arya Fae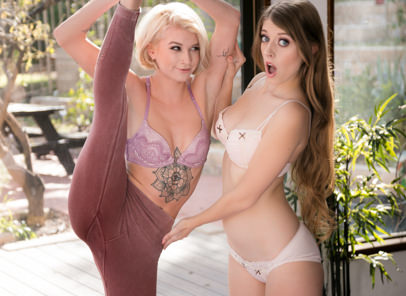 Date added:
2018-04-13
Rating:
Comments:
23
Description :
Alyce Anderson and Arya Fae have just finished a class. Arya is walking back to her car to go home when she hears something calling out her name. When she turns around she recognizes the girl but isn't sure exactly who she is. Alyce introduces herself, saying they're in the same class. Arya has an oh ya moment then adds that she's on her way to do some yoga. Alyce would love to do some with her and decides to tag along. The girls jump in Arya's car and drive home. Arya sets up two yoga mats in the living room and starts taking off her clothes. When Alyce asks her what she's doing, she tells her she always does yoga naked. Arya suggests that if she's not comfortable being naked she could just take off her dress. When Alyce asks her if her posture is correct, Arya runs her hand close to Alice's breast making sure to touch it. She finally sits down and begins doing breathing exercises. When they move on to stretching, Alyce isn't sure she's doing it correctly. When Arya tells her that her bra is restricting the energy flow, Alyce takes it off. When they start working on their legs, Arya corrects Alyce on her form but can't help but make a point to touch her. When she adds that perhaps removing her underwear would facilitate the energy flow, Alyce, who is now feeling more at east more, takes them off. When Arya asks Alyce is she knows what tantra is, Alyce tells her she has no idea. When Arya tells her it's using the sexual energy to manifest her destiny, Alyce can't help but be intrigued. When Arya tells her she's can teach her the ropes as long as she keeps an open mind. Alyce agrees and the girls start kissing as Arya leads her down the path of sexual ecstasy.
Categories :
Blonde
,
Brunette
,
Piercings
,
Girl on Girl
,
Masturbation
,
Natural Tits
,
Small Tits
,
Teen
,
69
,
Tattoos
,
Pussy Licking
,
Petite
,
Tribbing
,
Ass
,
Lesbian
,
Model Debut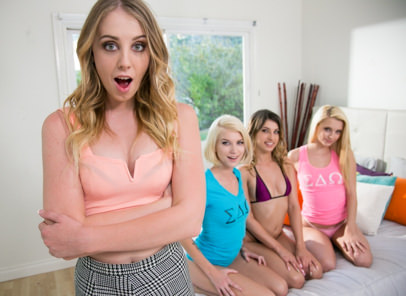 Date added:
2017-12-15
Rating:
Comments:
31
Description :
Chloe Scott is joining a sorority and is wondering if she got in or not. Feeling impatient, she goes up to the house to see if the girls are around. When no one's answers the front door, she goes around back to look around. Chloe peeps through the window to find Arya Fae and Riley Star diking it out on the bed. She looks around, looking in again getting a little turned on. She starts touching herself, massaging her breasts secretly wishing that she was in the room with them.

Kristen Scott, who was sun tanning in the back, didn't hear her phone. When she sees that Chloe is supposed to pass by, she gets up to look for her. When she spots her, she finds her looking into the house and isn't impressed. She sneaks up behind her to catch her in the act. Surprising her she asks her what the hell she's doing, Chloe starts apologizing saying that she wants in the sorority and hopes this won't blemish her opportunity. Kristen points to Arya and Riley emphasizing that this is a special sorority, and if she wants to be a part of this, then she knows what's she's going to have to do.

Chloe explains that she has a boyfriend and has never had sex with a girl. Kristen emphasizes that the girls share every part of themselves and if she wants in, she's gonna have to do what she's told. Kristen pulls down her bra and licks her tits, despite never having done this it seems like Chloe is enjoying herself. Asking her if she ready for her initiation Kristen goes down on her and starts devouring her pussy. They join the other girls inside, each of them taking turns on each other: eating their respective pussies, sitting on each other's faces, 69ing. With everyone satiated it looks like she passed the test with flying colors!!!
Categories :
Member Fantasy
,
Natural Tits
,
Small Tits
,
Rim Job
,
Fingering
,
Tattoos
,
Pussy Licking
,
Petite
,
Facesitting
,
Tribbing
,
Lesbian
,
Orgy
,
Model Debut
Pictures with Arya Fae
Date added:
2018-04-13
Rating:
Comments:
0
Date added:
2017-12-15
Rating:
Comments:
0
Date added:
2017-12-15
Rating:
Comments:
0