Vote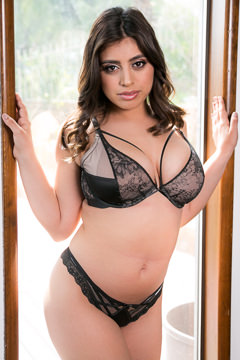 Ella Knox
Number of Videos:

3

2019-06-14
52976
14
Videos with Ella Knox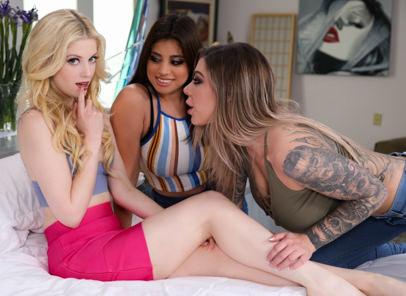 Date added:
2019-05-19
Rating:
Comments:
28
Description :
Karma RX and Charlotte Stokely, two fiancees that are soon to be married, are relaxing in bed together. As they snuggle up and daydream, Karma catches sight of Charlotte's computer screen. 'Who's Ella?' she questions, though has to nudge a bit more when Charlotte tries to evade the question. Charlotte soon gives in and admits that Ella Knox is an ex of hers from high school who broke her heart. But it doesn't matter because that's all in the past. They were young and dumb. Now it's all about the future with Karma!When Charlotte leaves moments later for work, Karma's eyes fall curiously back onto the computer left behind. She's worried about Charlotte, but has a plan...A few days later, Charlotte is in for the surprise of her life when none other than Ella Knox appears at the door! She is stunned, though Karma assures her it's all right and that Ella was invited. Karma knows Charlotte needs some closure from the breakup. Without it, the ex is always going to be on the back of her mind. Fortunately for them, Ella agreed to confront her past as well.Charlotte is amazed as Karma explains that she wants her to have one last night with Ella to get the closure she needs. Without that 'what-if' hanging over their heads, they'll be free to live the long, happy marriage they dream of! Although Charlotte is still shocked, when Karma encourages her to give Ella a kiss, she tentatively goes for it.The reservations soon melt away as Charlotte gets more into it, encouraged by Karma, who soon joins in on the fun. Things get hot and heavy between them as they eagerly dive into each other's pussies, relieving the tension and letting go of the past. Will Charlotte now finally be free to move on?
Categories :
Blonde
,
Brunette
,
Big Tits
,
Threesome
,
Natural Tits
,
Small Tits
,
Fingering
,
Tattoos
,
Pussy Licking
,
Facesitting
,
Latina
,
Tribbing
,
Romance
,
Lesbian
,
Model Debut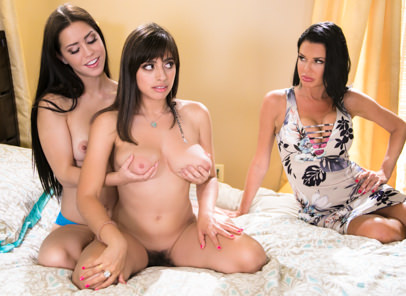 Date added:
2018-08-25
Rating:
Comments:
57
Description :
Ella Knox is babysitting for Veronica Avluv. Veronica is making sure Ella isn't going to have her boyfriend over like last time. With her low-cut dress and makeup, Ella looks like she's hitting the town; it's no wonder Veronica is suspicious! After grilling her with questions and making sure she's flying solo, Veronica takes her leave. Veronica's stepdaughter, Alina Lopez, walks in to find Ella on the couch reading a book. They've heard so much about each other, but this is the first time they're meeting. Veronica told Alina that Ella was pretty, but she didn't know that she was this stunning. She sits next to her on the couch and starts flirting with her immediately. Ella is trying to be professional, but Alina is doing everything in her power to seduce her. She sits closer to Ella, as she touches her skin and complements her. Ella blushes trying desperately to maintain her composure, but Alina isn't giving up. When Veronica comes home early from her errands and finds woman's garments scattered all over the floor; she's furious! She goes to the bedroom to investigate to find her stepdaughter eating her babysitter's pussy. She clears her throat, making her presence known, as the girls leap up from the shock. Ella apologizes profusely and tries to leave but Alina is not having it. She knows Veronica is angry because she's jealous. All she does is talk about how pretty Ella is; she's the one who wants to be eating her pussy! Alina tells her to kiss Veronica, but Veronica tries to deny her feelings. Once Ella gets her tongue in her mouth, Veronica is just about ready to explode. And when stepmom and stepdaughter share the babysitter for the rest of the afternoon, you know this is an afternoon that will be remembered.
Categories :
Brunette
,
Big Tits
,
Girl on Girl
,
Member Fantasy
,
Threesome
,
Natural Tits
,
Rim Job
,
Fingering
,
MILF & Mature
,
Squirting
,
Older / Younger
,
Pussy Licking
,
Hairy
,
Facesitting
,
Step Mom
,
Family Roleplay
,
Lesbian
,
Lingerie
,
Step Daughter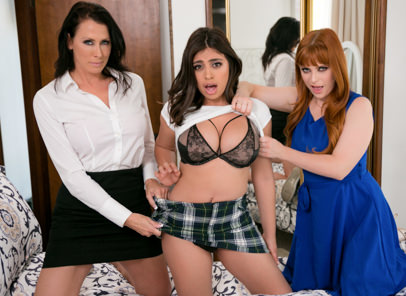 Date added:
2018-05-15
Rating:
Comments:
39
Description :
Ella Knox walks into the house and calls out for her mom. When there's no response, she's thrilled to have the house all to herself. But her hopes are shattered when she hears a voice from the living room. When Ella walks in there, she finds Penny Pax on the couch looking sexy as fuck in her blue dress. When Ella asks who she is, she introduces herself as an old friend of her mom's. Clueless that they were expecting company, Penny tells Ella that she's been friends with her mom for ages and came to visit to get away from the daily grind of her life. When Ella excuses herself to go study for her biology exam, Penny tells her that she actually works in the biology department and could probably help her study. Feeling grateful for her offer, she invites Penny up to her room. What Ella doesn't know is that her stepmom, Reagan Foxx, coached Penny on what to say. Penny starts seducing Ella and it's clear early on that the only biology Penny's concern with is Ella's body. When Reagan walks into the house, she hears something coming from upstairs. When she realizes that the girls are fucking, she storms into the room and asks them what they think they're doing. Penny is Reagan Reagan's lover and Ella is feeling really weird about having fooled around with her stepmom's girlfriend. When she tries to leave the room, Penny stops her and says that it's fine; they've had different lovers before and it's not that big of a deal. When Penny convinces Reagan that perhaps they could smooth things over with a biological examination of Ella's body, both girls eventually warm up to the idea. In the end, it looks like Ella's gonna get an A +.
Categories :
Brunette
,
Redhead
,
Big Tits
,
Girl on Girl
,
Threesome
,
Natural Tits
,
Fingering
,
MILF & Mature
,
69
,
Pussy Licking
,
Petite
,
Hairy
,
Latina
,
Step Mom
,
Family Roleplay
,
Ass
,
Lesbian
,
Model Debut
Pictures with Ella Knox