Vote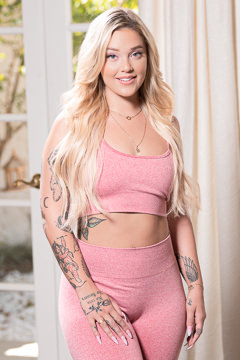 Videos with Kali Roses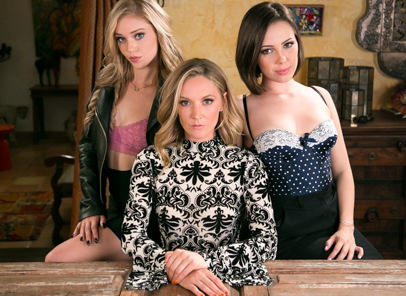 Date added:
2018-01-13
Rating:
Comments:
22
Description :
Mona Wales is a successful businesswoman who runs an escort agency. When she adopted Jenna Sativa, she trained her as her protégé. Jenna learned everything from her adoptive stepmom from keeping the books to the art of seduction. When it's time to hire a new recruit, Mona promotes Jenna for the job. She's worked hard under her mother's guidance and it's time to see if all that work has paid off. Mona tells Jenna that the new girl will be here soon.

Jenna prepares to interview her. Armed in a sexy top and a pencil skirt, Jenna looks incredible. She is ready to interview Kali Roses. Although she is slightly nervous, Kali's been looking forward to this opportunity for a long time and has always wanted to work for a reputable escort agency. Unfortunately, she's gonna have to get through a series of questions first. Jenna asks her to remove her top. But Kali's confused; she thought it was just a simple interview. But Jenna needs to make sure she looks good naked before she hires her.

She also tests her pain tolerance by slapping her tits and ass. Surprisingly, Kali's a trooper and Jenna is impressed. With a final consultation with the president of the company, she could potentially have a new job. When Jenna reports back to Mona, Mona asks her if their new recruit is willing to sleep with men and woman. Jenna forgets to ask and Mona is annoyed. She gets up to ask the new girl herself. When Kali admits that she wouldn't mind sleeping with a woman, she adds that she doesn't have that much experience in that field. Mona assures her they can train her now. Mona immediately instructs the girls to kiss and undress each other. Shy at first. Kali falls into the groove and obeys every command. It looks like the new girl is gonna work out after all!
Categories :
Blonde
,
Brunette
,
Piercings
,
Girl on Girl
,
Member Fantasy
,
Hardcore
,
Threesome
,
Natural Tits
,
Rim Job
,
Fingering
,
MILF & Mature
,
Tattoos
,
Pussy Licking
,
Facesitting
,
Step Mom
,
Family Roleplay
,
Tribbing
,
Lesbian
,
Step Daughter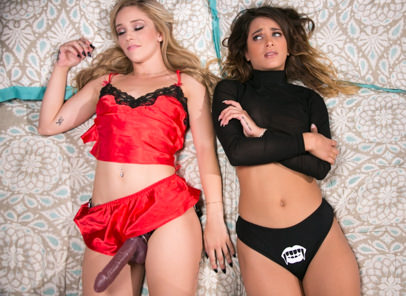 Date added:
2017-12-10
Rating:
Comments:
32
Description :
Kali Roses hasn't paid her rent in months. When she gets evicted she has nowhere to go. She calls up her brother hoping she can stay with him temporally. Not sure if his girlfriend, Uma Jolie, will go along with it, he breaks the news to her and she's not happy. She's worried that his delinquent sister might steal from them, but it's too late, she's already arrived and with nowhere else to stay, it looks like they're stuck with her.

The brother leaves for the weekend leaving the girls alone. Not wanting to deal with Kali, Uma goes to bed early. Kali knocks on the door, waking Uma up, asking if she can join her in bed. Uma's annoyed but allows her regardless. To her surprise, Kali's wearing a strap-on and playfully gets closer to Uma to poke her with it. Despite telling her to keep that thing away from her, Uma can't help but be intrigued. Restless, she starts tapping it and hitting it, touching it and stroking it curiously as Kali pretends to sleep.

Catching her in the act she knows Uma wants that strap-on inside her. She can deny it all she wants but Kali knows she wants it. Kissing her she tells her to spit on it. Uma thinks that maybe they should go back to bed but once they lie down, Kali goes in for the kill. Licking her nipples, kissing her lips, she goes down on her like her boyfriend never could: after all, no one knows how to eat pussy better than a girl. Once she's nice and turned on Uma wants that dick inside her as Kali fucks her missionary and from behind. Uma rides it, before she takes off the strap-on off of Kali, and starts eating her out getting her nice and moist. They trib and grind, they cum all through the night!
Categories :
Blonde
,
Brunette
,
Piercings
,
Girl on Girl
,
Natural Tits
,
Small Tits
,
69
,
Tattoos
,
Strap-on
,
Pussy Licking
,
Tribbing
,
Lesbian
,
Vignettes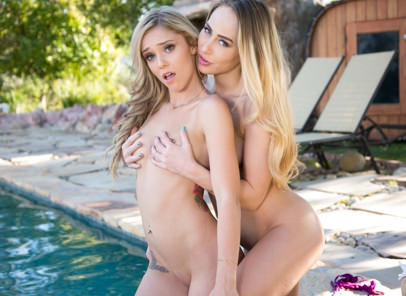 Date added:
2017-12-01
Rating:
Comments:
30
Description :
Kali Rose takes a walk in her neighborhood and stumbles upon a pool. She figured she can take a quick dip before anyone notices. Getting comfortable and used to the warm water Kali takes of her bikini. Carter Cruise is home though and notices a super hot girl swimming alone in her pool and goes outside to investigate. Kali, who's having a grand old time, doesn't notice Carter is walking behind her and almost has a heart attack when Carter makes her presence known.

Kali starts telling her a sob story about stumbling into her backyard by accident: she apologizes and tries to leave. Carter's not buying any of this telling her that she can't just come in here and not hang out with her. Carter takes off her clothes confusing Kali who's still a little shaken up from getting caught.

Carter jumps into the pool and tells her to stay awhile as she pulls her closer to her naked body. Kali protests stating that they don't know each other but her body language says different, she's enjoying this game of cat and mouse. Kali worries that they might be seen by the neighbors so Carter takes this a cue to go inside. The girls proceed to enter the master bedroom as Carter throws Kali on the bed.

Kali is still a little apprehensive but she's doesn't want to stop either. Once Carter starts eating her pussy, leaving is no longer an option. Fingering and eating each other's pussies and asses, tribbing and scissoring it looks like the bed is now wetter than the water!
Categories :
Blonde
,
Piercings
,
Girl on Girl
,
Member Fantasy
,
Hardcore
,
Rim Job
,
69
,
Tattoos
,
Pussy Licking
,
Facesitting
,
Tribbing
,
Lesbian
,
Model Debut
Pictures with Kali Roses