Vote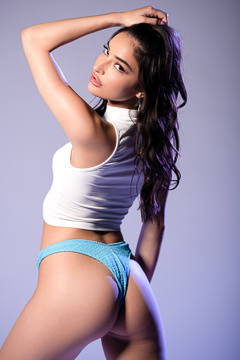 Videos with Emily Willis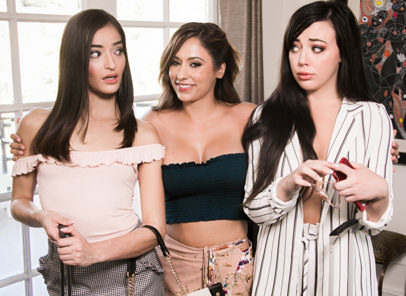 Date added:
2018-09-02
Rating:
Comments:
35
Description :
Whitney Wright and Emily Willis walk into their B&B and are met with Reena Sky. Confused,Reena explains that she was not expecting the couple but insists that she will keep to herselfduring their stay. The couple decides to enjoy their weekend at the B&B and can be seenperforming many activities such as yoga and having breakfast. Every activity Emily and Whitneytry to do Reena is sure to interrupt! She even interrupts them while taking a shower! Annoyed,the couple reside to their bedroom and discuss how they want their privacy. Whitney isapologetic that the weekend hasn't turned out as they had wished, but now that they are alonethey can give each other attention. Just as the couple are about to get intimate, Reena is at thedoor watching them! She jumps on the bed and explains how she thinks that Whitney and Emilyare so hot, and that she would love to make their stay a great experience. All three girls begin topassionately kiss. Reena licks and worships Emily's feet before she begins to eat her out. Thegirls tumble together in bed and sit on each other's faces until they all cum. After this lesbianthreesome, it's certain that this B&B will get a stellar review!
Categories :
Brunette
,
Big Tits
,
Girl on Girl
,
Member Fantasy
,
Threesome
,
Masturbation
,
Natural Tits
,
Small Tits
,
Rim Job
,
MILF & Mature
,
69
,
Pussy Licking
,
Hairy
,
Ass
,
Lesbian
,
Vignettes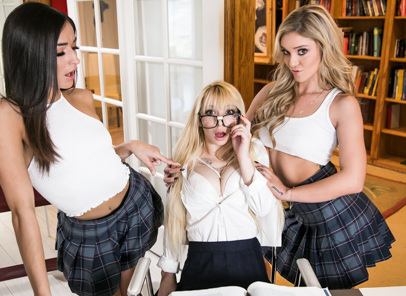 Date added:
2018-08-17
Rating:
Comments:
23
Description :
Emily Willis and Kali Roses are in detention making quite a racket. When Kenzie Reeves walks in, the girls notice her immediately. What's an innocent cute looking girl like that doing in detention the girls wonder. Before Kenzie has a chance to sit down, the girls pounce on her like a pack of hungry wolves. Pummeling her with questions, the girls can't imagine how she ended up in detention with them. When she tells them she cut class, the girls are thoroughly impressed. She elaborates saying that she used the time to volunteer at an animal shelter. The girls laugh at how adorable she is as they start running their hands through her hair. As Kenzie tries to focus on studying, the girls tell her that she'll have plenty of time for that later as they start undressing her. Kenzie is concerned that a teacher might walk in on them at any minute, but the girls assure her that no one's going to check up on a bunch of delinquents like them. She tries to talk her way out of it but it's no use. By the time she finishes her sentence, her shirt is off, and the girls are squeezing her tits. Kenzie really has to study but by the time the girls are sucking on her tits, she's completely forgotten about her homework. The girls are desperate to teach her a lesson and they'll make sure it's one Kenzie will never forget!
Categories :
Blonde
,
Brunette
,
Piercings
,
Girl on Girl
,
Member Fantasy
,
Threesome
,
Natural Tits
,
Small Tits
,
Teen
,
Tattoos
,
Pussy Licking
,
Facesitting
,
Latina
,
Lesbian
,
Uniform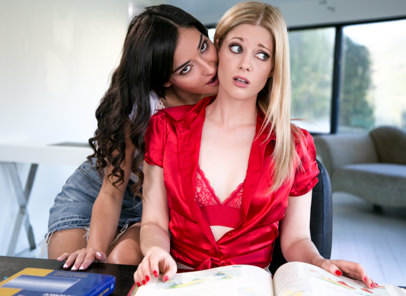 Date added:
2018-07-19
Rating:
Comments:
20
Description :
Charlotte Stokely is on break after a long morning of teaching. When Emily Willis calls out her name and comes over to talk to her, she's less than thrilled. Emily explains that she doesn't understand the material and really needs some help. Charlotte flippantly tells her she could find herself a tutor hoping she goes away. Emily doesn't appreciate her attitude; if she's her biology teacher than why doesn't she want to help her? Charlotte rolls her eyes and asks her how she may be of service. Emily asks her to turn to a specific chapter that she seems to be struggling with and points out the problem. When Emily suggests they use a model to better understand the material, Charlotte tells her there are no models available. Emily suggests they use what they have and asks Charlotte to stand up and extend her hands outwards. She shakes her head and hopes by doing this she can get back to her break. When Emily asks her where the appendix is, she rubs her hands all over Charlotte's chest. Charlotte corrects her saying that she's pretty sure the appendix is lower. When Emily cops another feel, Charlotte stops her saying that her behavior isn't completely inappropriate. When Emily tells her she was the one who called her over and started acting inappropriately, Charlotte quickly realizes that Emily could report her and lose her job in the process. She figures she'll just model for her and get this over with as soon as possible. Emily starts groping her and slowly tales off her clothes. The more Charlotte pleads with her stating that this is inappropriate, the more Emily seems to be enjoying herself. Looks like Emily got the biology lesson she had in mind after all!
Categories :
Blonde
,
Brunette
,
Girl on Girl
,
Natural Tits
,
Fingering
,
Teen
,
MILF & Mature
,
69
,
Older / Younger
,
Pussy Licking
,
Facesitting
,
Ass
,
Lesbian
,
Lingerie
,
Model Debut
Pictures with Emily Willis