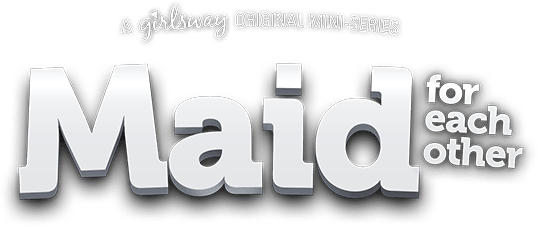 When people think of maids, they think of beautiful women in French maid outfits, giggling while innocently twirling feather dusters. But not all maids in the real world wear frilly aprons and not all house cleaners have clean thoughts… Some are downright dirty in all the right ways! Roll up your sleeves alongside sexy maids, housekeepers, and cleaning women in Maid For Each Other as they go from vacuuming rugs to MUNCHING rugs. Anything goes once the rubber gloves come off!
You'll need something to wipe yourself off with after witnessing all the fun these maids get up to during a well-deserved break. When three cleaners get told off by a rude and uptight client, they team up to exact their own unique revenge by getting absolutely filthy and freaky all over the client's kitchen. Meanwhile, a workaholic boss can't stay focused thanks to a distraction by an office cleaner with the perfect butt. And finally, an android maid develops feelings for the homeowner that goes beyond her programming, but will her feelings be reciprocated?
Date added:
2019-04-11
Rating:
Comments:
31
Categories :
Blonde
,
Big Tits
,
Fingering
,
Teen
,
MILF & Mature
,
Older / Younger
,
Pussy Licking
,
Facesitting
,
Tribbing
,
Lesbian
,
Model Debut
Description :
Dee Williams sits at her desk in her office. It is late at night and she is hunched over her laptop, working diligently. She pauses for a moment, taking off her glasses and rubbing her tired eyes. Soon, a cleaning lady, Scarlett Sage enters her office. She is wearing headphones and dances a little as she comes in, not noticing Dee. Dee looks up from her screen and sees Scarlett. She watches her dance for a moment. She likes the low-key sexy way Scarlett is dancing and bites her lips. Just then, Scarlett looks over at Dee. Startled that someone is there, she stops dancing, her eyes wide with embarrassment, as she quickly removes her headphones. Oh she is so sorry ma'am, she thought everyone had gone home for the day, Scarlett says apologetically.Dee is understanding and tells Scarlett that she can work around her, but Dee has trouble concentrating on her work because she's too busy staring at Scarlett's hot body. Finally, Dee can't take anymore, and wanting to get Scarlett's attention, purposely spills a glass of water on her desk. When Scarlett comes over to clean it, Dee tells her there's some under the desk too and Scarlett crouches down, sliding under the desk.As Scarlett wipes up the water, Dee hikes up her skirt and opens her legs. With Dee's pussy inches away from her face, Scarlett's eyes go wide. Scarlett can't help but admit to Dee that she loves her panties as Dee suggestively traces her fingers over her pussy. Maybe Scarlett should take a...closer look at them, Dee says seductively. Scarlett bites her lip and moves up to Dee's pussy, licking it sensually.Office cleaning can be a tough job, but Dee's going to show Scarlett that it certainly does have it's benefits.
Date added:
2019-04-18
Rating:
Comments:
29
Categories :
Blonde
,
Brunette
,
Threesome
,
Rim Job
,
Fingering
,
Tattoos
,
Squirting
,
Pussy Licking
,
Facesitting
,
Tribbing
,
Lesbian
Description :
Homeowner London River shows a cleaning crew into her bedroom. The cleaners---Alina Lopez, Mackenzie Moss, and Kenzie Reeves---set their cleaning supplies down. This is the master bedroom, London explains. She's going out to run some errands, but by the time she gets back, she expects this---just like the REST of the house--- to be SPOTLESS, London says bitchily. London doesn't see the cleaners look at each other and roll their eyes. 'And if any of you think about getting sticky fingers and stealing anything? Think AGAIN, cause I'll be counting EVERYTHING in this house to make sure that nothing is missing, EVEN the napkins,' she says. The cleaners look at each other incredulously, one of them even stifling a laugh. So?! What are they waiting for?, Get to work!, London says, storming out of the bedroom. The cleaners look at each other for a moment before they all burst out laughing. What a BITCH, Alina says. Seriously!, Kenzie agrees. Like who steals NAPKINS?!, Mackenzie laughs. And who uses phrases like 'sticky fingers'? Kenzie asks mockingly. 'Sticky fingers?! More like she has a STICK up her ass,' Alina jokes. No way, a woman THAT cranky hasn't had ANYTHING up her in YEARS, Mackenzie says. The trio cracks up.Kenzie and Mackenzie suggest that all three of them fool around and dirty up the London's house as revenge for her attitude. Even though Alina is hesitant, she's having trouble resisting her hot friends and all three of them fool around on the bed, taking care not to get caught. When they are surprised by London, they hastily get themselves together and pretend they have been cleaning the whole time.
Date added:
2019-04-25
Rating:
Comments:
29
Categories :
Brunette
,
Big Tits
,
Natural Tits
,
Rim Job
,
Fingering
,
Teen
,
Pussy Licking
,
Tribbing
,
Lesbian
,
Uniform
,
Sci-Fi and Fantasy
,
Virgin
Description :
When Angela White meets her new robot maid, Jill Kassidy, for the first time, she's unsettled. Jill's so human-like and it gives Angela the creeps. Yet, she has a busy life and everyone keeps saying how great these M.A.I.D.D.s are, so she figured she'd finally give it a chance.Although things are initially awkward between them, Jill's constant presence and innocence endears her to Angela. It's been so long since Angela let anyone close, having been burned in the past when wearing her heart on her sleeve. Yet, her wall slowly comes down and she finds herself looking forward to seeing Jill every day after work -- she's more to Angela than just the housemaid. Yet, she's afraid of confronting what she really feels for the droid... until Jill one day asks her about love.As Jill curiously listens, Angela stumbles, trying to explain what love is the best she can, even if she doesn't really feel she's the best person for the job. Even if she WERE able to adequately explain it, would a robot be capable of truly understanding it? So instead of explaining what love is, Angela shows Jill instead.Angela leads the way, giving Jill her first sexual experience while exploring her own complicated feelings. They're slow and sensual as they kiss and touch each other, learning how to show their affection. Jill relishes the new sensations as Angela sucks on her breasts and eats out her pussy. As Jill eagerly returns the favor, giving it her all to show her love, Angela finally embraces what they've had all along.